Flight Simulator Experience Videos

09 359 9000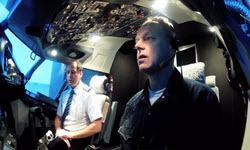 Actor and presenter Bruce Hopkins takes command of the Fly A Jet 737 flight simulator for the first time.
The Fly A Jet flight simulator is CAA approved as a pilot training simulator and the cockpit layout is an almost exact duplicate of a real working Jet Airliner.  But you don't need any previous experience to operate this amazing piece of technology as we can adapt the package to suit all levels and there will be a qualified pilot to assist you!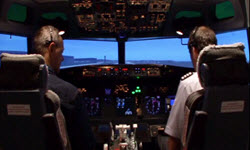 Having taken his first training flight – presenter Bruce Hopkins pilots the 737 Fly A Jet simulator for a complete flight from Whenuapai to Auckland Airport – including a Sky Tower fly past.
Join Bruce and Fly A Jet's Chief Pilot – Peter Cross, on this 30 minute flight.
This video is a complete recording of the simulated flight, from engine start up – to shut down in a hanger at Auckland Airport, providing an excellent overview of the Fly A Jet flight simulator experience.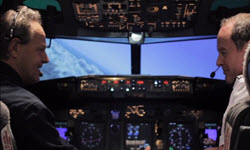 Full interview between presenter Bruce Hopkins and Fly A Jet founder and Chief Pilot, Peter Cross – providing back ground on the Fly A Jet Simulator experience.
Fly A Jet's friendly instructors  established the Fly A Jet flight simulator to provide the public with the in–cockpit flight experience that first inspired them to take up flying.  And with Fly A Jet – you're the pilot!   Your adventure starts the moment you walk in and after a flight briefing you're ready for takeoff.  Taxi to the runway of any airport in New Zealand or any major airport in the world – advance the throttles and you're airborne!